Executive Committee Member
Libby Roberts '79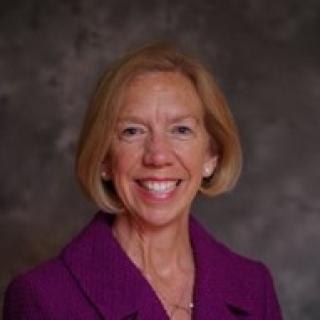 Biography:
Libby happily followed two of her brothers John '73, T'74 and Paul '75 to Dartmouth. She is also the proud aunt of Jessica '97, Elizabeth '00 and Caitlin '08.  She studied in Blois on LSA and in London on FSP graduating with a religion major.  While at Dartmouth she was a member of the Outing Club leading multiple freshmen trips, Cobra, the Aegis staff and served as vice president of her senior class. Libby recently finished her term on the Rockefeller Center Board of Visitors. She has served as a class agent, class officer, president and continuing education officer of the Dartmouth Club of Greater Boston, the Alumni Council, the Nominating and Alumni Trustee Search Committee, every reunion planning or gift committee and received the Young Alumni Distinguished Service Award.
Libby is senior vice president of Lindauer Global, a leading executive search and talent firm specializing in recruiting nonprofit leaders and their teams in education, healthcare and science, arts and culture, and in a range of advocacy organizations across the U.S. and on four continents.
Prior to her role with Lindauer, Libby served in the development offices at Dartmouth, Boston Symphony Orchestra, Northeastern University, Dana-Farber Cancer Institute, Harvard Law School and Phillips and Milton Academies.
She serves on the Board of Directors, recently as president, of the Boston House: Hope and Healing for Children with Cancer, and was a member of the Vestry of Boston's Trinity Episcopal Church, where she co-chaired its successful capital campaign.