Trustee Candidate
Joyce A. Sackey, M.D. '85 MED'89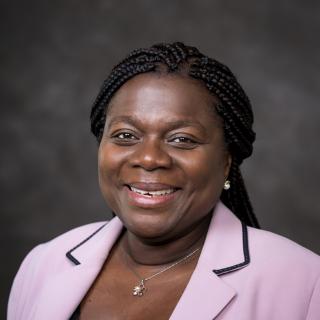 Biography:
Joyce A. Sackey, M.D. '85 MED'89 is Associate Provost and Chief Diversity Officer for Tufts University's Health Sciences Schools, where she works closely with University leadership to fulfill the strategic mission and goals for diversity, equity, and inclusion. She is also Dean for Multicultural Affairs and Global Health and the Dr. Jane Murphy Gaughan Professor at Tufts University School of Medicine. At Tufts, she oversees the medical school's diversity and inclusion initiatives, including programs to increase the number of under-represented students in medicine pursuing careers in the biomedical sciences and health professions. Her office also oversees and coordinates opportunities for students to gain exposure to global public health and health care delivery in international settings.
Prior to her work at Tufts, she was Assistant Professor of Medicine at Harvard Medical School and Attending Physician in Medicine at Beth Israel Deaconess Medical Center, where she also completed her residency in internal medicine and served as Primary Care Chief Resident.
Joyce received her undergraduate degree from Dartmouth College and her medical degree from the Geisel School of Medicine. She has served on the Geisel School of Medicine Alumni Council and as an alumni interviewer and has mentored and advised many recent graduates. She is a member of the Geisel Board of Advisors. Joyce has also served on the boards of Management Sciences for Health and the Foundation for African Relief and is currently a board member for the Shapiro Institute for Education and Research at Beth Israel Deaconess and Harvard Medical School.
Joyce and her husband Kwaku Acheampong live in Sharon, Massachusetts, and have two children, Kwaku and Nicole.